The MONTHLY Motivator - June 2014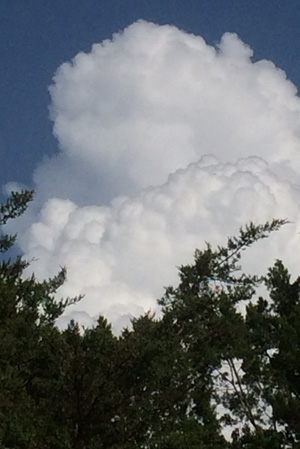 Set your life free
Floating through the sky on a breezy summer day, the brilliant white clouds seem so free. Nothing stops them, nothing limits them, nothing holds them back as they roam through the air above your head.
Imagine for a moment your life being that free. Imagine nothing holding you back. Imagine being able to see the world from an elevated perspective of your own choosing.
Now, know that all that is possible, and more. You can set your life free by choosing to do so. The burdens do not have to burden you. The limitations do not have to impede you. The challenges can actually serve to move you forward. The problems can be opportunities. It is a matter of letting go of whatever holds you back and allowing whatever moves you forward.
Think back to the white, puffy clouds for a moment. They do not try to float through the sky. They do not strive to travel above the ground. They simply allow the wind to push them forward. They do not hold on to the past. They do not obsess over when and how and by whom they've been wronged. They do not care what people think of them, and as a result, they are uniquely beautiful.
There is much you can learn from simply looking up at the clouds on a warm and breezy summer day. And there is much you can do to set your life free from whatever has been holding you back.
---
To continue reading this member-only content, please log in if you are a current subscriber/member, or if you're not already a member, you can join today for an annual price of just $15 and get immediate access to the full text of this article and many others, plus additional member-only content such as downloadable audio programs and e-books. If you're not ready to join right now, we invite you to look through our extensive archive of more than 6,000 shorter daily messages, which are fully available for everyone to read.
--Ralph Marston
Copyright ©2014 Ralph S. Marston, Jr. All Rights Reserved. The Daily Motivator is provided for your personal, non-commercial use only. Re-distribution (other than personal sharing) without permission is not allowed.