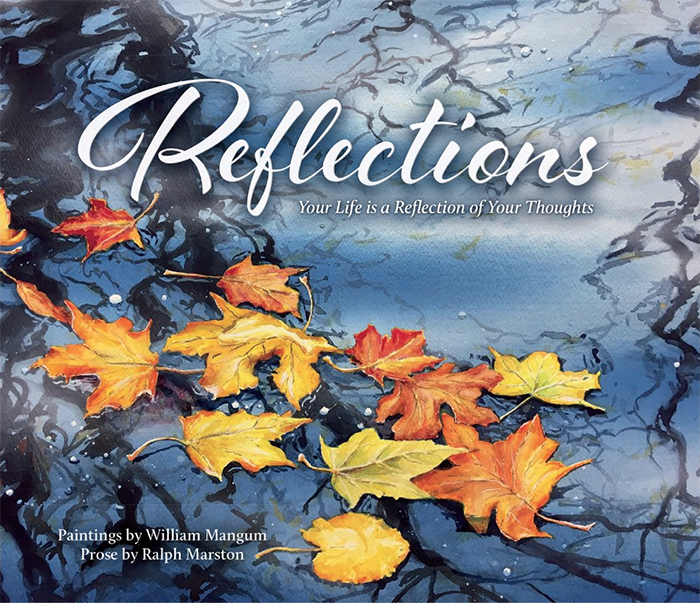 New for 2017
A beautiful way to enjoy and share uplifting thoughts

Have you ever watched a sailboat glide quietly by, and felt suddenly re-connected with all that's truly important in your life? That's the quality of experience you'll have when leafing through "Reflections."
This sumptuous, full-color hardbound book is an enchanting collaboration featuring the paintings of landscape artist William Mangum and the writing of The Daily Motivator's Ralph Marston.
Imagine walking through a quiet forest after snow has freshly fallen, and being reminded of how precious and valuable your life is. That is what this book feels like. Each page pairs a glorious scenic painting with a sincere, inspiring thought. It's an extraordinary combination that invites you into a state of peaceful, positive contemplation.
This coffee-table book features 144 pages of beautiful paintings rendered in rich detail, and alongside each painting are uplifting words of inspiration and encouragement. More than a fine art book, more than a motivational book, "Reflections" engages your heart, mind, and spirit in a unique and refreshing way. Scroll through the images below to see just a few examples of what awaits you in this book.
In his 40-year career, William Mangum has traveled the world creating more than 3,000 paintings and has achieved widespread, enduring success as an artist. His art has been shown in exhibitions across the United States and abroad, and he continues to create more than 60 original paintings each year.
"Reflections" is available now for shipment in the US by Priority Mail. The price is $39.95 per copy plus $10.00 shipping. Order today as a treasured gift for someone you care about or for yourself.